Area Guide & Nearby Attractions
Cunningham's Variety Store
Conveniently located within an approx. 7 minute drive South. This store offers some grocery basics and essentials, bagged wood, fuel and LCBO/Beer. Depending on the time of year, there is also a chip truck located next to the Variety Store that offers a yummy selection of food. Also, the view of the Little Mississippi River from this one-stop-shop spot is absolutely beautiful and showcases a small waterfall.
Towns nearby include:
Bancroft – 40kms
Maynooth – 30kms
Palmer Rapids – 20kms
Combermere – 18kms
Approx. 3min drive North. Absolutely beautiful! Free of charge, open to the public and very well maintained. It's view, comfortably swimmable waters with shallow sandy approach, nice play structure and picnic areas make this an outstanding attraction for family fun.
Click on any image in the slide shows to enlarge it.
Egan Chutes Provincial Park
Approx. 20min drive from the cottage. Park is inoperable, so no tickets required. Stunning views and peaceful hike makes for a nice day adventure. It's a "must see!"
From the cottage, you are only an estimated 40 minute drive away from Algonquin Park and all that it has to offer.
Click on any image to start the slide show and/or enlarge each photo. You can also use left and right keys on your keyboard to navigate the slide show.

Come experience the magic of winter! A perfect getaway location for anyone looking to load up their toys and explore the endless snowy trails. Snowshoeing adventures for the whole family, great ice fishing on nearby lakes (Fosters Lake & Fraser Lake) and sooooo much more to enjoy of a winter wonderland!
More info about winter at the York River Cottages coming soon
For latest news follow us on social media
Get in touch with the true beauty of what nature has to offer...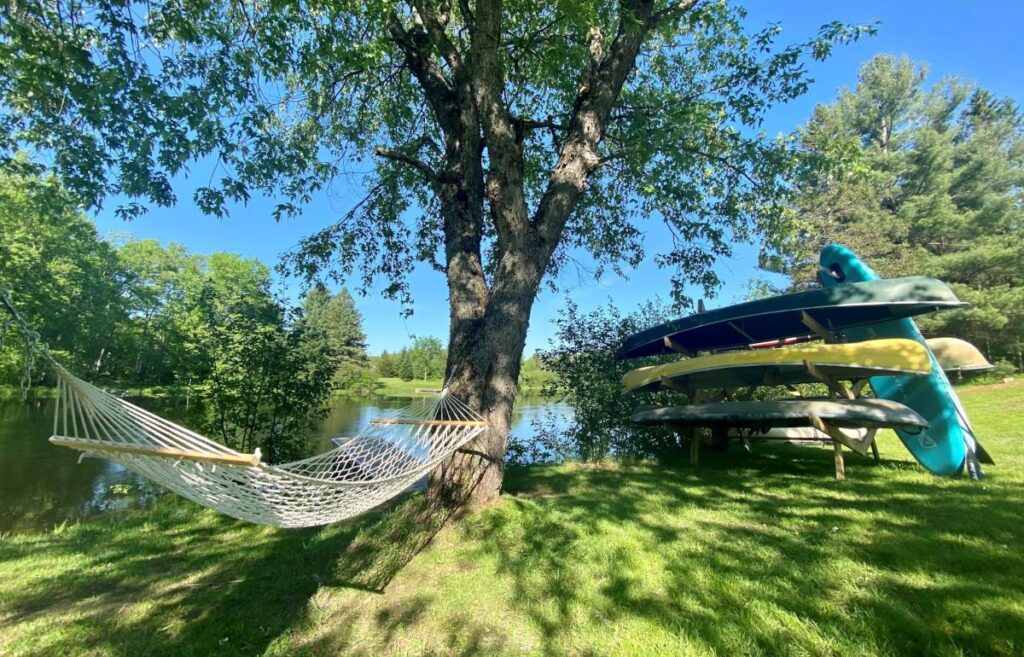 Dock
Kayaks
Canoes
Paddleboards
13ft Water bouncer with 20ft attached log
Automatic backup generator

Waterfront Vacation Rentals
Please note the outdoor amenities listed here are to be shared by all guests. The property provides easy access to the river and is suitable for 12ft aluminum boats or smaller. (Motorized boats are not provided but we welcome you to bring your own). Other local boat launches include access at Fosters Lake (Beach lake, 15 Hp restriction), Fraser Lake, Trails End Rd (York River) and Burnt Bridge Rd launch to explore the Conroy Marsh (York River).
For your  safety, we do recommend that you bring life jackets that are properly fitted to you and your family/friends. We do have a wide variety of life jackets on site in the wooden shed located in the front yard if anyone needs.
Each rental accommodation has its own designated outdoor fire pit and sitting area. Located within close proximity of each cottage. These areas are not shared by other guests and for private use only, for you and your group.
Boulter Road itself is paved right to and pass the cottages. This makes it great for bicycling and/or walking.
The view of the river from all of our rental accommodations is surely a peaceful sight to see, and our surrounding acres invite you to get in touch with the true beauty of what nature has to offer. From the sounds of various birds, to the possible sightings of our local wildlife that include, whitetail deer, elk and turkeys we encourage you to explore. Walk our 1300ft of private shoreline. Take your morning coffee, stop for a fish, or adventure through the woods. Just don't forget your camera. To top it all off, we welcome you to cozy up around a campfire. Be sure to check out the stars at night, there are no words to describe the view other than breathtaking!
(Please click on any slide to stop the slide show, click again or use the left and right arrows to resume it).
Austin - February 2022

"Stayed 3 nights, and we had a blast. Wish it could have lasted. The cottage was clean and had everything we needed for cooking and cleaning. There is a lot to do at the cabin and in the area. Highly recommend!"
Sandiya - August 2021

"Daniel & Tawnya we're kind & amazing hosts. Their cottage was beautiful with a nice view. Everything was clean and organized. Daniel was quick to respond if we needed anything during our stay. The cottage looks just like the pictures and I would definitely go back here."
Melissa - September 2021

"Really great spot to stay! The place was so so clean, it didn't even feel like a cottage, especially with the new feeling Reno's. Bed was comfortable, shower was hot and the view was lovely."
Caro - August 2021

"Dan and Tawnya did amazing work on this property! Very lovely people, and available if ever we needed anything. Place was nice and clean. We had a great time there with our golden retriever that just loves the water! We had fun on the kayaks, swimming, water trampoline and fishing. Beach is literally 2 mins away and it is beautiful. Also went to the Egan chutes (20 mins drive) for a nice hike and lovely view. It was a perfect get away from reality with no cell service so we could really detach from work! Thanks again for having us!"
Elyse - July 2021

"We spent a week at Daniel and Tawnya's Cozy Cottage and had a blast! It's a great, dogfriendly spot. Everything is as described/pictured in the listing. The cabin has everything you need for a comfortable stay. We had a great time swimming, kayaking and fishing in the river, and relaxing by the campfire at night. Daniel and Tawnya are amazing hosts and obviously put a lot of thought and care into what they do. Thanks for a great stay!"
Tina - June 2021

"Daniel and Tawnya are wonderful! You can feel the genuine care and love they put into the property. I rent Airbnb's frequently, and this was by far my favourite stay. The property is beautiful, right on the river, with canoes and kayaks to go explore in. There's a beautiful beach minutes away. Daniel and Tawnya are responsive hosts but you are given all the privacy you would like as well. Can't recommend this place enough. I will most certainly be going back!"
Waterfront Vacation Rentals
3299 Boulter Road, Boulter, ON

Waterfront Vacation Rentals
For latest news follow us on social media