York River Cottage
8 guests | 2 bedrooms | 4 beds | 1 bath
With much to offer, our newly renovated cottage is tastefully furnished giving it a home away from home feel.
Click on any image to start the slide show and/or enlarge each photo. You can also use left and right keys on your keyboard to navigate the slide show.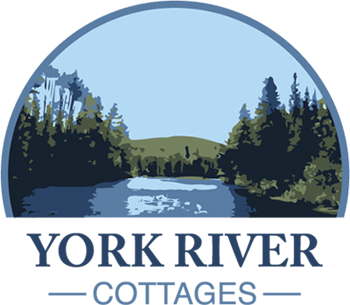 Waterfront Vacation Rentals
3299 Boulter Road, Boulter, ON
We adhere to all Covid-19 protection protocols.
Follow us on social media for latest news
The cottage is spacious, with open concept living area on the main floor.
New features include: All new windows/doors and exterior siding. Main level interior finished with T&G pine, luxury plank flooring, new window coverings and our personal favourite, a spectacular propane fireplace finished with rustic stone and hand hewn barn beam mantle.Fresh paint throughout.
Upstairs you will find 2 very spacious bedrooms. One of which offers a beautifully large viewing window. Each bedroom includes 2 beds, each bed freshly encased with mattress protectors and topped with comfy pillows, ready to be made with your linens. (Please bring your own bed sheets, pillow case covers, blankets/comforters – linens are not provided).
Cottage Main Level:
Full kitchen & dining area (Fridge, stove/oven, microwave, coffee maker, Keurig, other basic appliances, as well all of the cookware/utensils/dishware you may need to prepare and enjoy your meals).
Full bathroom with shower
Living area with comfortable seating
50" Flat screen TV with DVD player (HDMI & USB ports, standard HDMI cable included)
(Small selection of movies included).
Upstairs:
Bedroom One: 1 Queen & 1 Double
Bedroom Two: 2 Doubles
Coffee/Tea
Salt/Pepper
Cooking Oil
Hot water
Dish soap/Kitchen cloth
Basic cleaning supplies
Shampoo
Toilet Paper
Heating/Indoor fireplace
Ceiling fan
Portable fans
BBQ with attached side burner, supplied with propane
Fire pit (One welcoming bundle of wood included)
Outdoor seating (Adirondack chairs/picnic table)
Washer Toss
Carbon monoxide alarm
Fire extinguisher
Smoke alarm
Free parking on premises
Waterfront with access
Pet friendly
Cottage has running water, however it is unfit for drinking. Non-potable water. Please bring your own drinking water.
*PLEASE BRING YOUR OWN LINENS – BEDDING & TOWELS NOT INCLUDED*
(We do not include bed sheets, pillow case covers, blankets/comforters, towels, washcloths etc.)
Check-in: 4:00 p.m.
Check-out: 12:00 p.m.
Self check-in with lockbox.
(Please click on any slide to stop the slide show, click again or use the left and right arrows to resume it).
Austin - February 2022

"Stayed 3 nights, and we had a blast. Wish it could have lasted. The cottage was clean and had everything we needed for cooking and cleaning. There is a lot to do at the cabin and in the area. Highly recommend!"
Sandiya - August 2021

"Daniel & Tawnya we're kind & amazing hosts. Their cottage was beautiful with a nice view. Everything was clean and organized. Daniel was quick to respond if we needed anything during our stay. The cottage looks just like the pictures and I would definitely go back here."
Melissa - September 2021

"Really great spot to stay! The place was so so clean, it didn't even feel like a cottage, especially with the new feeling Reno's. Bed was comfortable, shower was hot and the view was lovely."
Caro - August 2021

"Dan and Tawnya did amazing work on this property! Very lovely people, and available if ever we needed anything. Place was nice and clean. We had a great time there with our golden retriever that just loves the water! We had fun on the kayaks, swimming, water trampoline and fishing. Beach is literally 2 mins away and it is beautiful. Also went to the Egan chutes (20 mins drive) for a nice hike and lovely view. It was a perfect get away from reality with no cell service so we could really detach from work! Thanks again for having us!"
Elyse - July 2021

"We spent a week at Daniel and Tawnya's Cozy Cottage and had a blast! It's a great, dogfriendly spot. Everything is as described/pictured in the listing. The cabin has everything you need for a comfortable stay. We had a great time swimming, kayaking and fishing in the river, and relaxing by the campfire at night. Daniel and Tawnya are amazing hosts and obviously put a lot of thought and care into what they do. Thanks for a great stay!"
Tina - June 2021

"Daniel and Tawnya are wonderful! You can feel the genuine care and love they put into the property. I rent Airbnb's frequently, and this was by far my favourite stay. The property is beautiful, right on the river, with canoes and kayaks to go explore in. There's a beautiful beach minutes away. Daniel and Tawnya are responsive hosts but you are given all the privacy you would like as well. Can't recommend this place enough. I will most certainly be going back!"
Follow us on social media for latest news
Waterfront Vacation Rentals
3299 Boulter Road, Boulter, ON

Waterfront Vacation Rentals
Follow us on social media