River Otter Inn
2 guests | 1 bedroom | 1 bed | half-bath
Rustic & newly renovated, our off-grid bunkie makes for the perfect country getaway with a beautiful waterfront view.
Click on any image to start the slide show and/or enlarge each photo. You can also use left and right keys on your keyboard to navigate the slide show.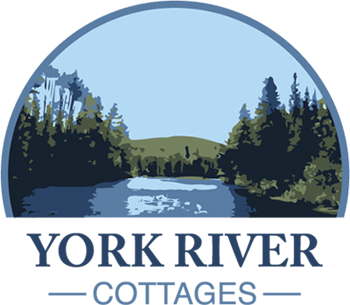 Waterfront Vacation Rentals
3299 Boulter Road, Boulter, ON
We adhere to all Covid-19 protection protocols.
Follow us on social media for latest news
Great swimming just steps away! It's that escape that you've been meaning to take; to truly disconnect from the busyness of everyday life and reconnect with what's most important. Nature. We are more than happy to invite you to come and experience the serenity of it all.
Forget about having to pitch your own tent, just bring along your personal supplies and conveniently camp in our eco-friendly bunkie. The shelter itself provides excellent protection from wind and rain alike while retaining a cozy and homey feel inside. Keeping it simple the one-room bunkie features minimalism at its finest; one comfy fold out futon with double bed. The mattress is encased in a fresh mattress protector with comfy pillows to top, just ready to be made with your linens. (Please bring your own bed sheets, pillow case covers and blankets/comforters – linens are not provided). A BioLite Solar powered kit has also been installed with 3 interior lights, USB charge-out for your phones and radio system. T&G pine throughout. New window coverings. On its exterior the bunkie is finished with all new siding and metal roof. Nothing like hearing the sound of rain on a tin roof, the ultimate sound of relaxation. Nice covered porch entry with solar powered motion light.
Our bunkie is without electricity or running water. Outhouse is located within close proximity. Behind the bunkie down a well-lit wooded trail.
BBQ with attached side burner, supplied with propane
Basic BBQ grilling utsensils
Fire pit (One welcoming bundle of wood included)
Outdoor seating (Adirondack chairs)
Washer Toss
Fire extinguisher
Smoke alarm
Free parking on premises
Waterfront with access
Pet friendly
Access to the shared outdoor amenities
(Dock, kayaks, canoes, paddleboards, water bouncer with attached log)
Please remember this is a glamping experience, similar to that of camping. You must bring what you need. (Cookware/dishware not provided). You need to bring your cooler to store your food.
*PLEASE BRING YOUR OWN LINENS – BEDDING & TOWELS NOT INCLUDED*
(We do not include bed sheets, pillow case covers, blankets/comforters, towels, washcloths etc.)
IMPORTANT: We do not allow the use of your own candles, nor any fuel device inside the bunkie. It is strictly forbidden to smoke inside.
Check-in: 4:00 p.m.
Check-out: 12:00 p.m.
Self check-in with lockbox
(Please click on any slide to stop the slide show, click again or use the left and right arrows to resume it).
Austin - February 2022

"Stayed 3 nights, and we had a blast. Wish it could have lasted. The cottage was clean and had everything we needed for cooking and cleaning. There is a lot to do at the cabin and in the area. Highly recommend!"
Sandiya - August 2021

"Daniel & Tawnya we're kind & amazing hosts. Their cottage was beautiful with a nice view. Everything was clean and organized. Daniel was quick to respond if we needed anything during our stay. The cottage looks just like the pictures and I would definitely go back here."
Melissa - September 2021

"Really great spot to stay! The place was so so clean, it didn't even feel like a cottage, especially with the new feeling Reno's. Bed was comfortable, shower was hot and the view was lovely."
Caro - August 2021

"Dan and Tawnya did amazing work on this property! Very lovely people, and available if ever we needed anything. Place was nice and clean. We had a great time there with our golden retriever that just loves the water! We had fun on the kayaks, swimming, water trampoline and fishing. Beach is literally 2 mins away and it is beautiful. Also went to the Egan chutes (20 mins drive) for a nice hike and lovely view. It was a perfect get away from reality with no cell service so we could really detach from work! Thanks again for having us!"
Elyse - July 2021

"We spent a week at Daniel and Tawnya's Cozy Cottage and had a blast! It's a great, dogfriendly spot. Everything is as described/pictured in the listing. The cabin has everything you need for a comfortable stay. We had a great time swimming, kayaking and fishing in the river, and relaxing by the campfire at night. Daniel and Tawnya are amazing hosts and obviously put a lot of thought and care into what they do. Thanks for a great stay!"
Tina - June 2021

"Daniel and Tawnya are wonderful! You can feel the genuine care and love they put into the property. I rent Airbnb's frequently, and this was by far my favourite stay. The property is beautiful, right on the river, with canoes and kayaks to go explore in. There's a beautiful beach minutes away. Daniel and Tawnya are responsive hosts but you are given all the privacy you would like as well. Can't recommend this place enough. I will most certainly be going back!"
Follow us on social media for latest news
Waterfront Vacation Rentals
3299 Boulter Road, Boulter, ON

Waterfront Vacation Rentals
Follow us on social media